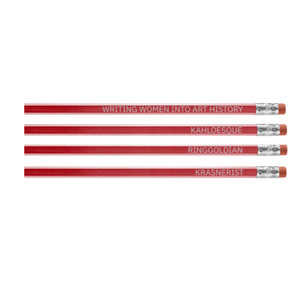 ArtGirlRising
Write Women Into Art History - Pencils
Regular price
$12.00
$0.00
Unit price
per
A pack of 4 pencils in a white sleeve
WRITE WOMEN INTO ART HISTORY 

KRASNERIST

KAHLOESQUE

RINGGOLDIAN
A collaboration with Less Than Half.
Boschian. Caravaggesque. Rockwellian. All adjectives that derive from the names of famous artists. Famous male artists. But can you think of a name-based adjective (or if you want to get nerdy, an "eponym") based on a woman? We can ;)
When an artist's work is iconic enough to merit an eponym, we as a culture are sending a clear message: this artist has transcended the bounds of his work. 
When we don't do the same for the work of women and non-binary artists, we reinforce a harmful stereotype: that the work of men is universally relevant, and the expression of everyone else is niche, too personal to be relatable. 
So with these pencils make a statement. Declare to the world that the work of women expresses universal human sentiments. Our struggles with the self can be Kahloesque. Our engagement with our bodies can be Krasnerist acts. Our expression of intersectionality can be Ringgoldian. 
With these pencils, write women into art history. 3